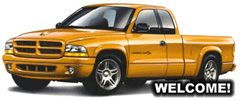 Dedicated to owners and enthusiasts of the limited-edition Dodge Dakota R/T Truck. A place for owner's to show off their R/T trucks and non owners to find more about these cool pickups. Site includes information, featured Dakota R/T trucks, Photo gallery, Screensavers and more.

Latest Dodge Dakota R/T Trucks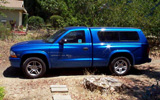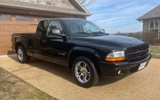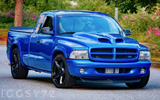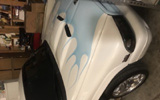 About The Dodge Dakota R/T
The first generation Dodge Dakota R/T went on sale in the spring of 1998 and was produced thru 2003. The R/T featured a 5.9-liter (360) Magnum V-8 engine rated at 250 horsepower and 345 lb.-ft. of torque. Maximized with a performance-tuned dual inlet stainless steel exhaust system and a heavy-duty electronic four-speed automatic transmission (46RE).
Wearing oversized 17-inch wheels and P255/55 R17 tires gave the Dakota R/T pickup a solid, stable footprint, which further enhanced handling. The suspension, which was built with a focus on road handling as opposed to load hauling, was lowered to give the R/T a sleek, road-hugging look and feel. The Dakota R/T had both front and rear stabilizer bars to control handling, the rear bar was a beefier 19 mm to minimize body roll in turns during cornering. A limited-slip differential for improved traction and quicker starts was also included.
In true street vehicle fashion the Dakota R/T offered a nimble ride with precise handling and stable cornering with an exceptionally responsive power train. The Dakota R/T's distinctive sport truck styling statement was underscored with a unique exterior package, which included front and rear color-keyed bumpers and flared fenders to accommodate the vehicle's larger wheels and tires. The 1998 to 2003 Dakota R/T was only available with 2 wheel drive and available in two body styles a regular cab or club cab.
2006 -2007 Dodge Dakota R/T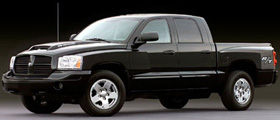 The Dakota R/T was offered again for 2006 and 2007, however with only cosmetic modifications. The 260 horsepower 4.7-liter High Output V-8 was standard equipment. A unique sport appearance package in Inferno Red, Brilliant Black or Solar Yellow that included a non functional hood scoop, chrome exhaust tips, R/T gauge cluster, R/T headrest badging, cargo box hockey-stick style decals and 17-inch chrome-clad aluminum wheels.
The "Road and Track" package was available on both the club cab and quad cab trucks and was offered in 2 and 4 wheel drive configurations. Visit our information section for more on the Dodge Dakota R/T truck.