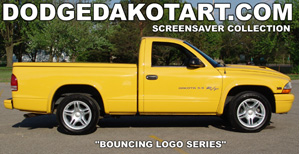 A free downloadable screensaver featuring the full Dodge Dakota R/T logo in the correct script.
Built for Windows pc's and is compatible with both 32 bit and 64 bit versions of Microsoft Windows 8, Windows 7 and Windows Vista. It also works with Windows XP.
Download & Setup Instructions:
The Dodge Dakota R/T Bouncing Logo Version 1.0 screensaver was designed for Microsoft Windows 8 computers. Compatible with both normal and widescreen monitors of all sizes.
1 – Download The Dodge Dakota R/T Bouncing Logo Screensaver 1.0:

  (1.5 MB)
2 – When you have completed the download double click the self-extracting file to setup the screensaver. Click Here for more information on installing and using screensavers from DodgeDakotaRT.com.
Dodge Dakota R/T Bouncing Logo Screensaver Version 1.0 Release & Update History:
Current Version:
v1.0.1192014: November 9, 2014 – – First general public www release, supports both 32 bit and 64 bit Windows 10, 8, 7, and XP
Past Versions:
N/A