Dodge Dakota R/T Information: Home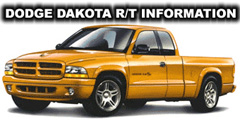 AUBURN HILLS, Mich. – January, 7 1998 – Dodge Division of Chrysler Corporation today released pricing for the 1998 Dodge Dakota R/T compact pickup. The Dakota R/T Regular Cab will be priced at $19,850, while the Dakota R/T Club Cab will be $22,060. Both prices include destination.
The Dakota R/T is a limited edition "street truck" fashioned off of the already-popular Dakota pickup. The vehicle features a 250-horsepower 5.9-liter Magnum V-8 engine, oversized 17-inch wheels, lowered suspension, performance-tuned dual exhaust and many other performance enhancements. Dakota R/T will be offered in two-wheel drive configuration only.
"We're really excited to be able to do a vehicle like the Dakota R/T," said Dodge General Manager Ray Fisher. "Sure, it's a bit of a departure from the norm for trucks, but that's what Dodge is all about." The Dakota R/T will be built alongside the rest of the Dakota family at Chrysler's Dodge City Assembly Plant in Warren, Michigan.
The vehicles will begin arriving in Dodge dealerships in early Spring of 1998.
SOURCE: Chrysler
Looking for other Mopar related trucks. Check out My Mopar Truck the internets best site devoted to Dodge, Plymouth and RAM brand trucks.