Dodge Dakota R/T Information: Home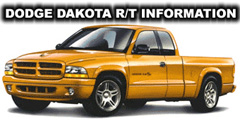 AUBURN HILLS, Mich.: January 7, 1998 – With Dodge Durango, Ram Quad Cab, Intrepid, Dakota R/T, Neon R/T, Ram Van and Wagon, 1998 marks the largest model year product launch in the history of the Dodge brand.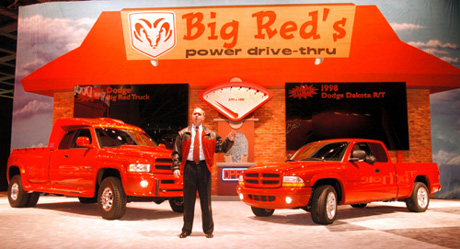 "Dodge continues to build momentum in the marketplace by offering a complete lineup of cars, trucks, minivans and sport-utility vehicles that are bold, powerful and capable," said Ray Fisher, General Manager of the Dodge Division. "To maintain this momentum, we are focusing on building depth into the brand by further enhancing performance capabilities in our products."
Big Red Truck and Dakota R/T, shown together at the 1998 North American International Auto Show, are excellent examples. Big Red Truck showcases the new Cummins 24-Valve Turbo Diesel Engine for 1998 Dodge Ram pickups while the 1998 Dakota R/T pushes compact pickup truck performance to a new level with its 250 horsepower 5.9-liter Magnum V-8 and a performance-tuned exhaust and suspension.
Dodge brand's success in the marketplace has been nothing short of tremendous. In the past five years, Dodge retail sales have increased 100 percent while brand loyalty has more than doubled from 25 to 52 percent. Armed with a showroom full of brand new 1998 vehicles, Dodge is well-positioned to build on that success.
The momentum for the brand began in 1992 with the introduction of Viper and Intrepid. Viper redefined the American sports car and set new records in performance while Intrepid rewrote the rules in the full size sedan market.
Momentum continued in 1993 when Dodge introduced a re-designed Ram with a distinct, aggressive, over-the-road look that quickly tripled marketshare in the pickup truck market from seven to 21 percent. Building on the success of Ram, Dodge redesigned the Dakota compact for 1997 and gave it the same bold appearance. The strong family resemblance of Ram continued with the debut of the 1998 Dodge Durango.
"Great things are happening at Dodge," said Fisher. "A lot of our customers tell us, 'Dodge is back.' With our lineup of new 1998 vehicles, they should also know we're here to stay."
SOURCE: Chrysler
Looking for other Mopar related trucks. Check out My Mopar Truck the internets best site devoted to Dodge, Plymouth and RAM brand trucks.