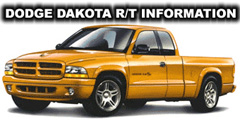 AUBURN HILLS, Mich., January. 8 1998 — For the second year in a row, Dodge will drive away with Sport Truck magazine's "Sport Truck of the Year" award. In 1997, Dakota Sport won the award. This year, the 1998 Dodge Dakota R/T, unveiled this past Wednesday at the North American International Auto Show in Detroit, Mich., earns the honors.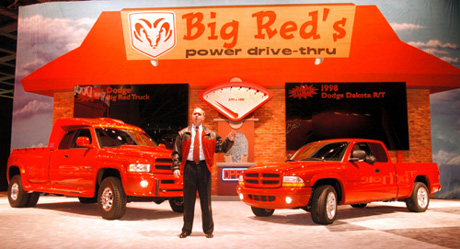 The Dakota R/T is a limited edition "street truck" fashioned off the Dodge Dakota Pickup. The vehicle features a 250-horsepower 5.9-liter Magnum V-8 engine, oversized 17-inch wheels, lowered suspension, performance-tuned dual exhaust and many other performance enhancements.
In his article, Sport Truck magazine Technical Editor Joel Mollis writes, "If ever a truck deserved the title Sport Truck of the Year, the hot-rodded Dodge Dakota R/T is certainly the one. Dodge used a pretty straight forward concept to produce this year's king of the hill: Take a truck that's already a stylish looker, stuff a torque-laden powerplant under its hood, install high-performance rolling stock, cloak the whole thing in arrest-me-red colorant, and unleash the beast on an unsuspecting world."
Mollis concluded, "Congratulations, Dodge. You've given the street truck world a slick, strong-running hauler that has raised the benchmark against which all future sport trucks must be judged." "Dodge is thrilled to earn this award two years in a row," said Ray Fisher, General Manager of the Dodge Division. "It's yet another highlight for the Dodge truck success story. The 1998 Dodge Dakota R/T is bold, powerful and capable."
The 1998 Dodge Dakota R/T goes on sale this spring. The suggested retail price of Dakota R/T Regular Cab, including air conditioning and destination, is $19,850. Dakota R/T Club Cab, including air conditioning and destination, is $22,060. The vehicle will be manufactured at Dodge City Assembly Plant in Warren, Mich.
SOURCE: Chrysler