Dodge Dakota R/T Information: Home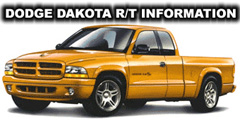 AUBURN HILLS, Mich., Jan. 7 1998 – The compact sport truck known for over-delivering on performance, power and personality now offers an all-new handling and performance package with the introduction of the 1998 Dodge Dakota R/T. The vehicle goes on sale this spring.
The 1998 Dodge Dakota, already best-in-class with its 5.2-liter Magnum V-8 engine, sets the performance bar even higher with the R/T's 250-horsepower 5.9-liter Magnum V-8 engine. Wearing new oversized 17-inch wheels and P255/55 R17 tires, the Dakota R/T has a thicker rear stabilizer bar, lowered suspension, and limited-slip rear differential. And in true street vehicle fashion, R/T will only be offered in a 4X2 configuration.
The result is a truck enthusiast's dream: aggressive looks combined with nimble ride, precise handling, stable cornering and an exceptionally responsive power train. "The key words here are 'enhanced performance,'" said Bernard Robertson, Vice President Engine Technologies and General Manager of Truck Operations.
"We took our already-proven 1997 Dodge Dakota and further pushed it to the limits with the R/T. The result is a truck that offers an even more exhilarating experience and still over-delivers on style, capability and comfort."
Dodge Dakota, the only compact truck with a V-8, now offers a choice of two V-8 engine sizes with the addition of Dakota R/T's 5.9-liter engine. The 250 horsepower and 345 lb-ft. of torque is maximized with a performance-tuned dual inlet stainless steel exhaust system. The heavy-duty electronic four-speed automatic transmission (46RE) is standard with the 5.9 V-8.
The 1998 Dakota R/T has front and rear stabilizer bars to control handling, but the rear bar is a beefier 19 mm to minimize body roll in turns during cornering. Dakota R/T adds a limited-slip differential for improved traction and quicker starts.
Oversized 17-inch wheels and tires give the sport truck even more of a solid, stable footprint, which further enhances handling. The suspension, which was built with a focus on road handling as opposed to load hauling, is lowered to give the R/T a sleek, road-hugging look and feel.
"With our 1997 Dakota, we were proud of the fact that we were able to combine car-like handling capabilities with the functional attributes of a truck," said Robertson. "Without sacrificing the benefits of our 1997 Dakota, we made the 1998 Dodge Dakota R/T even more responsive."
Dakota R/T's distinctive sport truck styling statement is underscored with a unique exterior package which includes front and rear color-keyed bumpers and flared fenders to accommodate the vehicle's larger wheels and tires. Dakota R/T is available in two body styles: 4X2 Regular Cab or Club Cab; and four colors: Flame Red, Black, Intense Blue, and Deep Amethyst.
SOURCE: Chrysler
Looking for other Mopar related trucks. Check out My Mopar Truck the internets best site devoted to Dodge, Plymouth and RAM brand trucks.