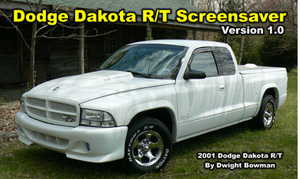 A free downloadable screensaver featuring a collection of 34 Dodge Dakota R/T Trucks from past Mopar Shows and Events. Version 1 includes photos from The 440magnum Mopar Enthusiast Network archives, plus a featured 2001 Dodge Dakota R/T submitted by Dwight Bowman – Claremont, NC.
Originally released in 2008, this screensaver was the first added to our site and remains a popular download.
Built for Windows pc's and is compatible with both 32 bit and 64 bit versions of Microsoft Windows 10, Windows 8, Windows 7 and Windows Vista. It also works with Windows XP.
Download & Setup Instructions:
Dodge Dakota R/T Version 1.0 screensaver was originally designed for standard resolution monitors. However, the current version was updated with the ability to resize the photos for all screen sizes. When used on widescreen monitors the Dodge Dakota R/T images will be automatically resized to fit your screen size with a black border. Compatible with both normal and widescreen monitors of all sizes.
1 – Download The Dodge Dakota R/T 1.0 Screensaver:

 (17.5 MB)
2 – When you have completed the download double click the self-extracting file to setup the screensaver. Visit our help section for more information on installing and using screensavers from the Dakota R/T Zone site.
Dodge Dakota R/T Screensaver Version 1.0 Release & Update History:
Current Version:
v1.2.w1280: February 22, 2014 – Minor update, supports 32 bit and 64 bit Windows 8.
Past Versions:
v1.1.w1280: November 5, 2010 – Updated to support 32 bit and 64 bit Windows 7 and Vista.
v1.0.w1280: June 14, 2008 – First general public www release.