Featured Dodge Dakota R/T's: 1998

1999

2000

2001

2002

2003

2006

2007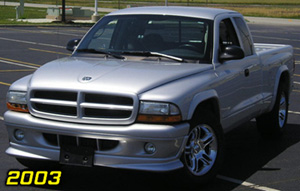 Last year for the first generation Dakota R/T.  Also the last year for the 5.9-liter magnum engine. The Dodge Dakota R/T Zone is currently looking for 2003 Dodge Dakota R/T's to feature.
Yours could be the next, if you own a  real 2003 Dodge Dakota R/T and would like to have it included.
Click on the Submit My R/T above!
Featured 2003 Dodge Dakota R/T Trucks