Featured Dodge Dakota R/T's: 1998

1999

2000

2001

2002

2003

2006

2007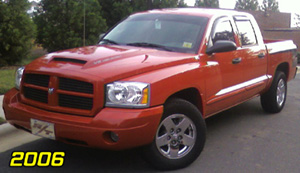 In 2006 Chrysler offered a refresh of the Dakota and R/T returned. The second generation of the Dakota R/T pickup was only an option package. The package included a nonfunctional hood scoop, a gauge cluster created just for the R/T and hockey stick-style side stripes. The R/T package was now available on both 2 and 4 wheel drive models.
The Dodge Dakota R/T Zone is currently looking for 2006 Dodge Dakota R/T's to feature. Yours could be the next, if you own a real 2006 Dodge Dakota R/T and would like to have it included. Click on the Submit My R/T above!
Featured 2006 Dodge Dakota R/T Trucks
Get your 2006 Dodge Dakota Road & Track edition featured here!