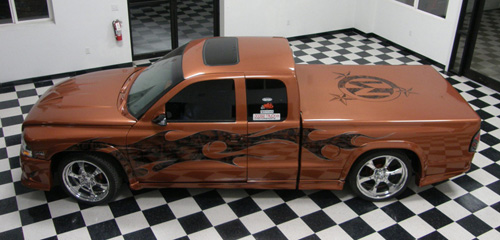 Brack, who served a tour of duty in Iraq and now works as a law enforcement officer, spent around 3,400 hours over the course of two years modifying his Dakota. The first project that Brack completed on the truck was the installation of a custom 18-speaker sound/video system. He also spent countless hours meticulously modifying and detailing the engine and engine bay, as well as installing a custom front air ride suspension and a Viper brake package, featuring 6-piston front and rear calipers.
"I want to thank Mopar for opening the 'Top Eliminator' competition up to those who couldn't make it to one of the shows this year," said Brack. "I am overwhelmed with the love my Dakota receives and that in great part comes from people I don't even know. To me that says I did something right and it's a great feeling to have."
The modification of the Dakota, which Brack purchased in 2003, took place in his garage at his house, as he often spent 12-14 hours at a time on the project. The native of Ozark, Mo., used a number of Mopar parts and accessories during his modification process including: Mopar cam, crank, push rods, Mopar double-roller timing chain, Mopar M-1 intake manifold, Mopar mid-length headers, and Mopar cast valve covers.