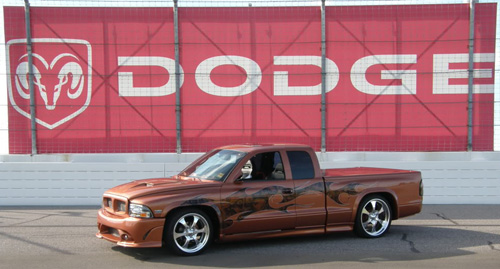 "I love looking at my Dakota and saying to myself, 'Wow,' I did that," Brack said. "I'm not a professional builder, although many would look at my truck and disagree. I just take a lot of pride and passion in what I do. I took the right amount of time to build it right the first time. There is no greater feeling than seeing the astonished looks on people's faces when they see it."
The long-running Mopar "Top Eliminator" program shines a light on passionate and dedicated Mopar enthusiasts who display unmatched skill in modifying or preserving a classic or modern-day Mopar vehicle. A total of four Mopar "Top Eliminator" winners were chosen this year, with three at Mopar event-based car shows, along with Brack in the online competition.
Tom Ledoux of Pearland, Texas, was chosen as the first 2012 Mopar "Top Eliminator" winner for his modified 2009 Dodge Challenger SRT8® during the Seventh Annual Spring Festival of LXs in Irvine, Calif. Neil Wedeking of Marble Rock, Iowa, was named the second Mopar "Top Eliminator" winner of the year for his 1970 Plymouth AAR 'Cuda during the 28th Annual Midwest Mopars in the Park car show in Farmington, Minn. Rich Gengo of Piscataway, N.J., was named the third Mopar "Top Eliminator" winner of 2012 for his 1951 Dodge pickup truck at the Carlisle Chrysler Nationals in Carlisle, Pa.
Mopar "Top Eliminator" candidates are judged on a number of criteria, including Mopar content, overall appearance, along with the story behind the build and additional benchmarks. For winning the online Mopar "Top Eliminator" competition, Brack will receive the exclusive Mopar "Top Eliminator" trophy.